What is a Group Leader?
This guide is for those people who have been made a Group Leader on www.researchanimaltraining.com. Group Leader features apply to two aspects of this site. The assignment of new learner accounts in a group of which you are Group Leader and the management and review of learner progress for members of the group of which you are Group Leader. Group Leaders have access to an Admin menu item. You can be the Group Leader of multiple groups.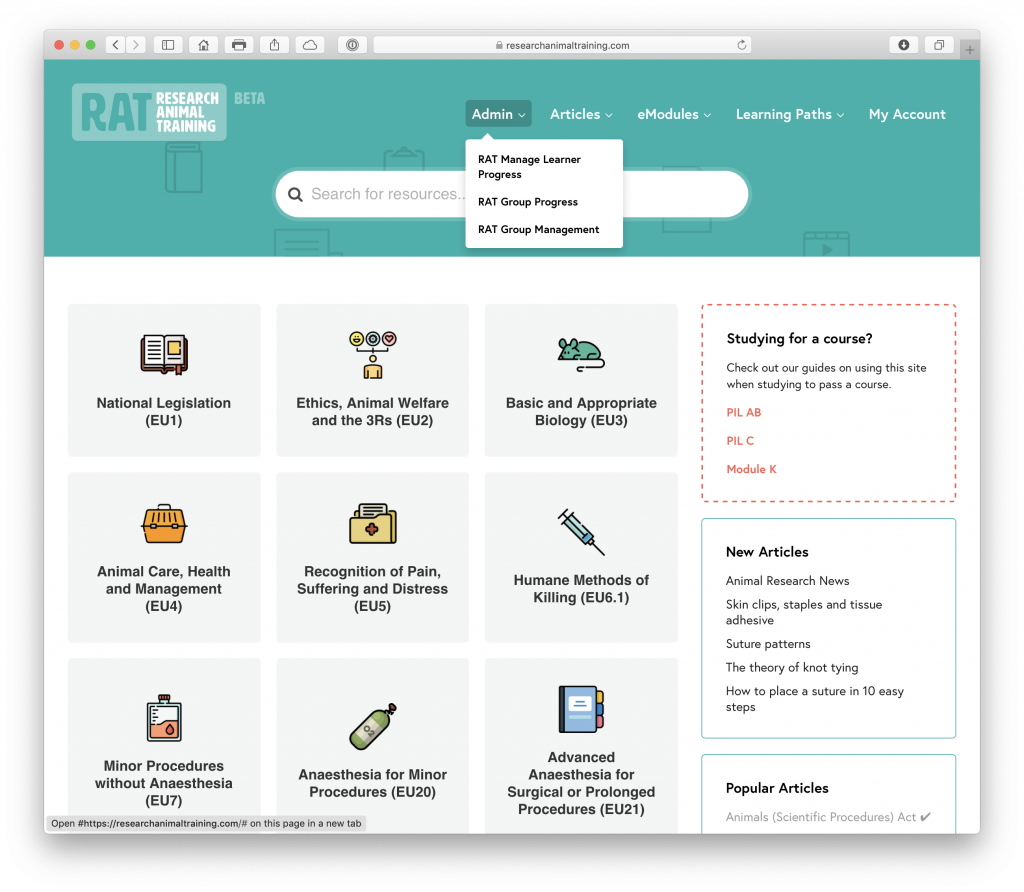 Managing Learner Progress
As a group leader you can manage the progress of learners in your groups.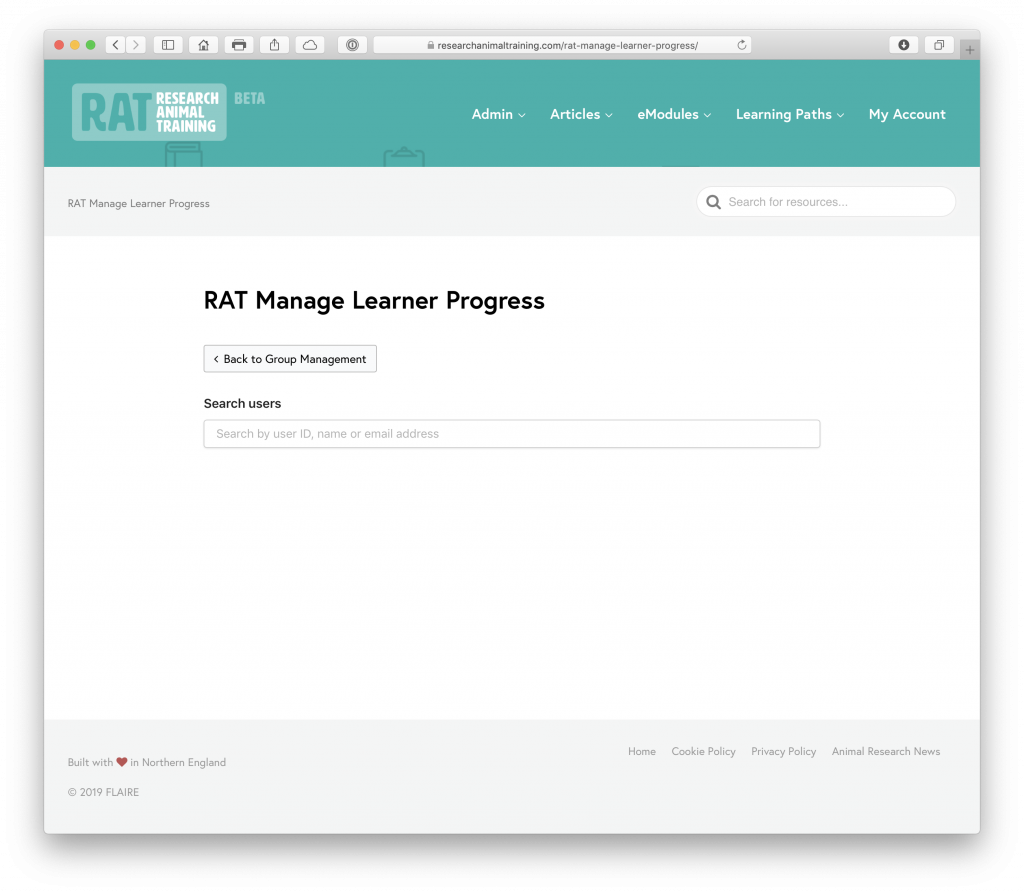 Start typing the learners name, pause for a second or two and they should appear in a dropdown list and can be selected.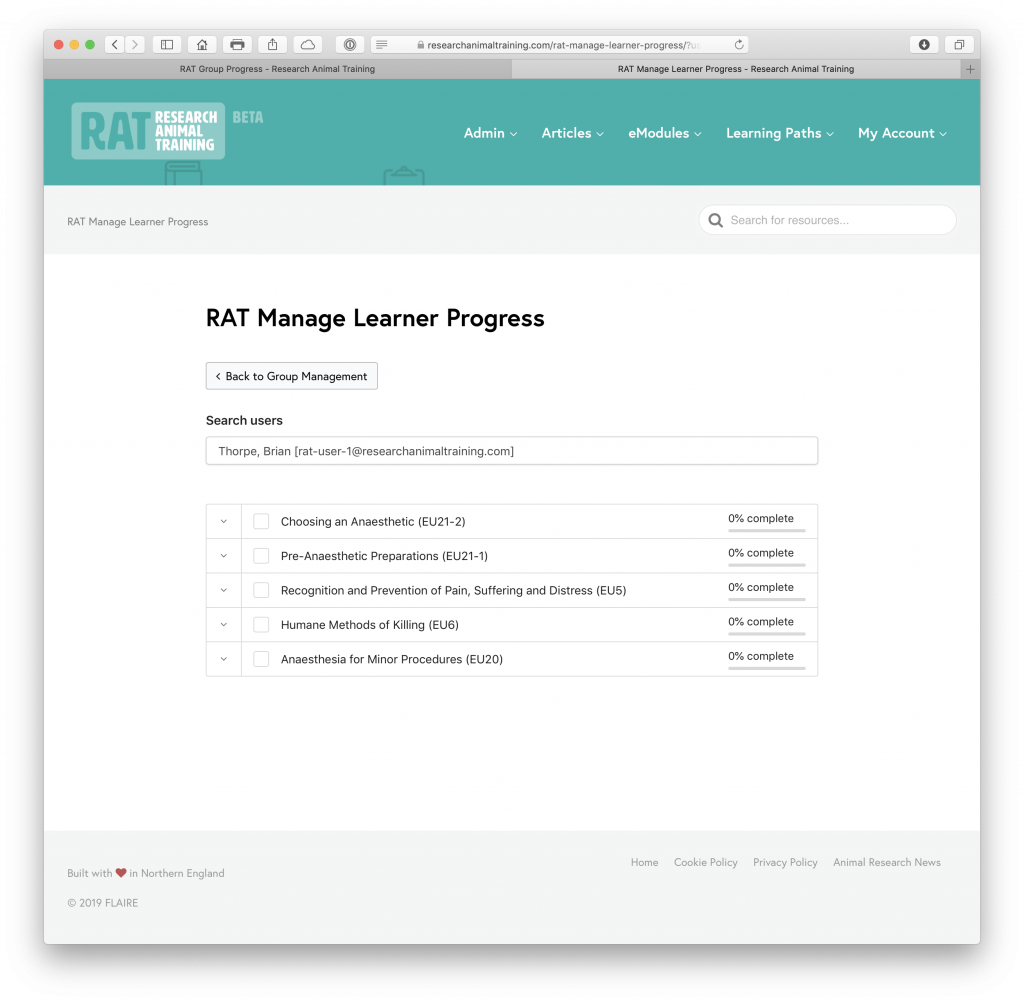 eModules and Lessons can be ticked to mark completed/uncompleted.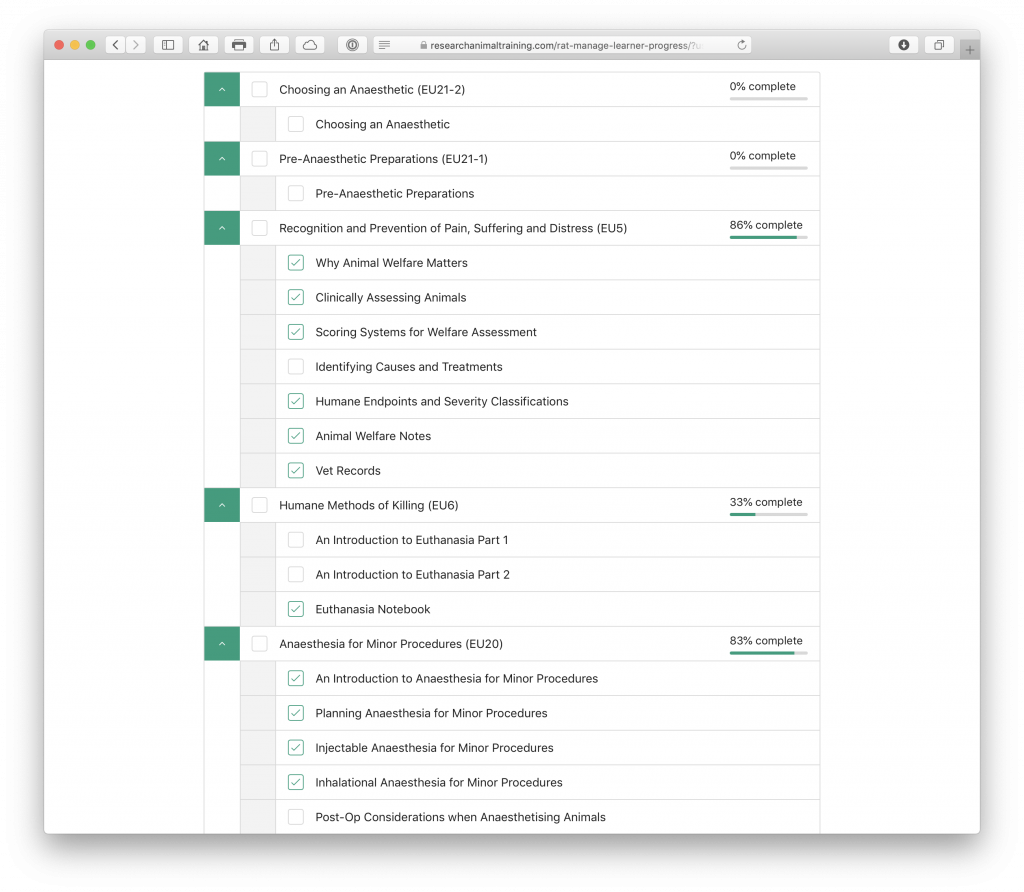 If completion of an eModule is set to trigger a certificate – a link will be displayed. A link to this certificate is also available to the learner from their eModule account page.

Clicking this link will open a PDF certificate in a new tab/window for download/print.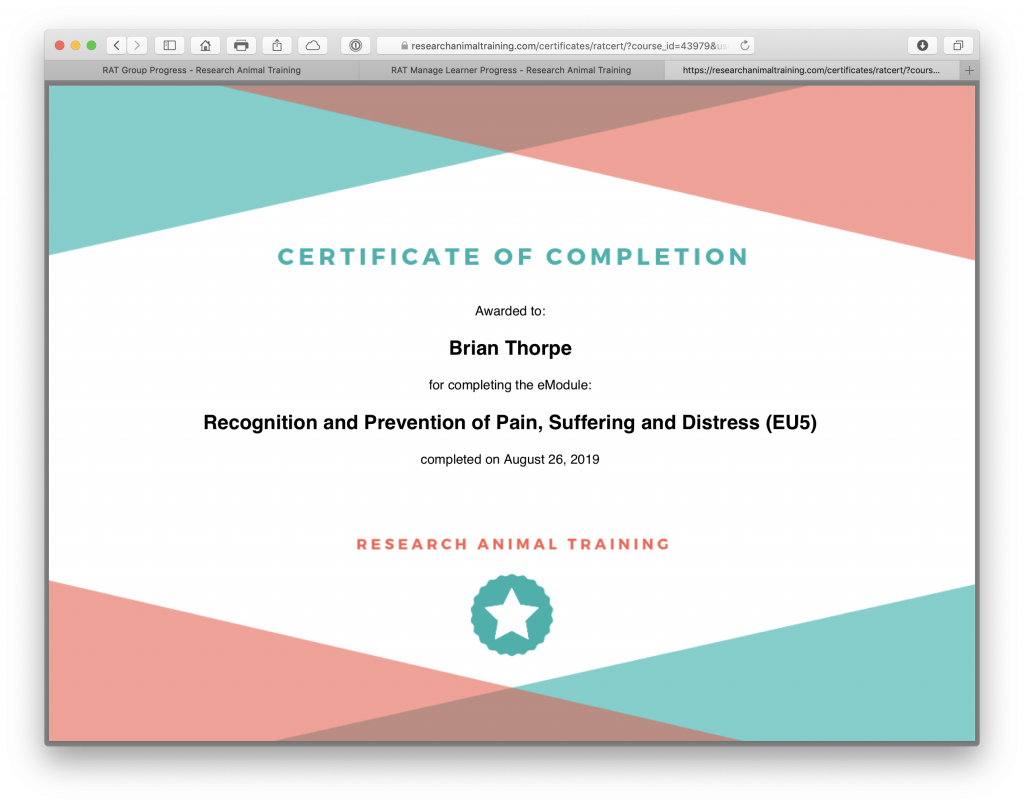 Group Progress
As a group leader you can view the progress of learners in the your groups per eModule.
Clicking on the Percentage link in the % Complete column will take you to a page which lists all of that users module progress
Group Management
When you navigate to the RAT Group Management page, the first thing you see is the group name or a drop-down list of all of the groups you are managing. Beneath that is a list of the eModules available to that group.
The next section of the page is the Enrolled Users list that contains a row of buttons for the main management functions that are available to Group Leaders. The Enrolled Users list is the current list of your group users, their email addresses and their status.
Adding Users to Groups
When you click on the Add User button, you can choose between adding one user or adding multiple users. If you select One user, a form appears:
Add and invite a new user: If you select the Add and invite user option, you must correctly enter the users first name, last name, and email address to add them to a group. Once you click the Add User button an email is sent to the user. The user is added to the list of users in the group, they take up a seat in your group, and their status is set to Not Started. If you add a user that already exists on the site, the system will add them to the group and send the Existing User a welcome email. They then occupy a seat in the group just like a new user.
Adding Users in Bulk
Users can be added in bulk by clicking Add User > Multiple users, or by clicking Upload Users and uploading a CSV file.
Users added to this form are added to the list of users in the group and they take up a seat in your group, and their status is set to Not Started.
The Upload Users form is the one to use if you wish to upload users via a CSV file.
For the bulk upload to work properly, a CSV file formatted with the following column order and headings must be used: user_email; user_pass; first_name; last_name. CSV files that have incorrect formatting of email addresses, column names, etc will not be uploaded. You can download a sample file here: group_management_user_upload (.CSV file, 74 bytes). If the user_pass cells are blank, a random password will be used, but the column heading should still be included.
Tip: CSV files created and saved from some versions of MS Excel for Windows can sometimes add special characters that prevent the file from being uploaded. Platforms like Google Sheets work well with the bulk upload function and tend to avoid formatting issues found with various spreadsheet programs.
Emailing Group Members
Group Leaders can easily email all members of their group based on their course status (Not started, In progress and/or Completed). Clicking Email Users brings up the email group members interface:
Emails sent via this interface use the Group Leader's name as the From Name, the Group Leader's email address as the Reply-to Email, and the From Email address is set to support@researchtraining.com. This is to reduce the likelihood that the emails are flagged as spam. Members are sent the email via BCC, so group members will not see each others' email addresses.
Removing Users from a Group
When logged in as a Group Leader, on the RAT Group Management page, select the users you would like to remove from the Enrolled User list, and a Remove User(s) button will appear. Click on the Remove User(s) button. You will be prompted to confirm your action.
You can only remove group members before they have enrolled and started the courses that are available to them in the group.
Once a learner has started completing the courses that are available in the group, or if they have completed all of the courses and their status is set to Completed, they can no longer be removed from the group. If the enrolled user is also a Group Leader, then they can not be removed from a group.
Please only delete user accounts for people who don't attend your course. Deleting a user account from a group WILL delete their account with RAT. We offer this facility to allow you to reclaim seats previously purchased if an attendee does not attend.
Please contact support@researchanimaltraining.com if you have any questions.